Celebrating 30 years, the Pet Food Forum provides you with the ideal opportunity to network and gain insight into the latest research on pet nutrition, pet food market growth, pet food safety, processing, packaging and much more. It is taking place in Kansas City Missouri at the Kansas City Convention Center from May 2-4, 2022.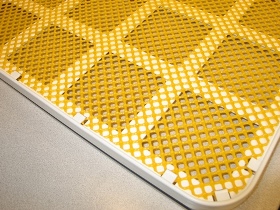 Industrial Netting will be at booth #2111 showcasing our Plastic Dehydration Netting used as a drying screen, tray, sheet, or rack liner for a variety of pet food products. We also provide injection molded frames that can be paired with tray liner netting of your choice to match dehydrating specifications. These Frames come in sizes of 21″ x 42″ and 18″ x 25.5″. Dehydration netting is BPA free and makes for a clean surface that allows air and liquid to circulate freely, while separating cuts and pieces throughout processing.
Come see Industrial Netting at Booth #2111 to have your questions answered and to learn more about our Dehydration products!