Introducing our new Cannabis and Hemp processing mesh products!
Industrial Netting provides Food Grade Commercial Drying Netting for Cannabis / hemp growing systems for medicinal and recreational purposes. Our indoor grower support netting products for Marijuana are BPA free and fully comply with FDA regulations. Use these products for providing proper air circulation and light during the drying/curing process as a tray liner / shelf liner or as a Trellis Net. Plastic netting can be used for drying CBD hemp flower, Cannabis buds, or other herbs.
Trellis Netting
Our growing support netting can be used as an indoor or outdoor commercial greenhouse support Net (Lattice / Trellis) during the growing and production cycle of cannabis, providing a gridded structure for the marijuana buds to grow properly. Trellising is especially important for indoor growing. Since lights are stationary above the growing area, it is more difficult for light to reach all sides of the cannabis flower. In this case, the canopy should be spread as evenly as possible across the tops of the plant bringing all of the branches top nodes to the same distance from the light source. Once the plants have been trellised it will be difficult for them to move out of place, bringing optimal light upon them.
Buying bulk rolls of cannabis trellis netting / hemp trellis netting is a lower cost solution if you have a larger area to cover and can be easily cut down once the product is received. Trellis Netting from Industrial Netting comes in roll widths of 48″, 60″ or 120″ and in roll lengths of 3,281′ OR Custom Cut to your specific size needs. The hole size of this mesh is 6-1/4″ x 6-1/2″ for optimal support and is designed to be gentle on your plant, preventing damage through abrasion.
Cannabis Processing Trays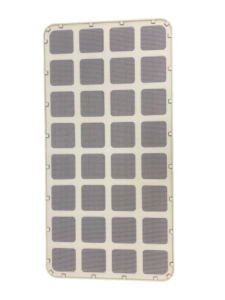 We offer a variety of FDA compliant and BPA free Polypropylene or Polyethylene resin plant drying net materials to suit a wide range of temperature processing requirements. In addition, the Industrial drying rack netting comes in a plastic square mesh form available in a variety of colors (natural, blue, and yellow) & numerous hole sizes and is manufactured with one textured and one smooth side to allow flexibility during processing. Any netting of choice can be custom cut to fit our Cannabis Processing trays. These trays are 20.5″ x 42″, FDA complaint, and are made from glass filled Nylon 6/6 resin. The netting you choose to fit your tray depends on what hole size is needed for processing cannabis buds. Our most popular products for this application commonly have smaller hole sizes such as XN3019, XN3234, and XN5170. Additional features include:
Easy to clean
Reusable
Easy to handle and fabricate
Cost Effective
High Ventilation
For custom racks designed to fit Industrial Netting's Cannabis Drying trays please contact Bob Brackle at New Age Industrial.
Check out our Cannabis and Hemp Netting page to view all processing products!