Get ready to learn about all of the latest and greatest opportunities and applications within the Scrap Recycling Industry at ISRI 2023.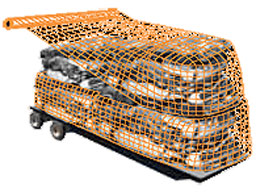 Industrial Netting will be in Booth 2024 showcasing our Car-Go-Net plastic safety netting. The netting is used to contain loose parts during over-the-road transport to reduce the risk of those parts falling onto the roadways, putting others at risk.
Eliminate tarp maintenance by utilizing Car-Go-Net disposable netting. Car-Go-Net is available in a wide variety of widths and lengths, with aperture sizes of ¼" or ¾" for use on flatbeds, railroad gondola cars, and in sided, over-the-road trailers. The netting is orange in color for greater visibility so that your drivers are not delayed and ticketed.
ISRI 2023 will be held at the Music City Convention Center in Nashville, Tennessee, from April 17 to 19. Don't forget to swing by Booth 2024—we would love to have the opportunity to learn more about your hauling needs!
See you there!