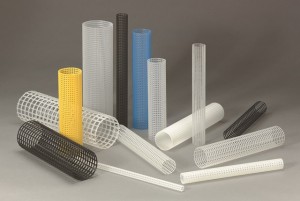 Industrial Netting produces extruded polypropylene tubes that are typically used as center core supports or outer cages for cartridge filters. We have nearly 100 configurations of diameter, wall thickness and open area, including several options with thicknesses greater than 0.20" for high-pressure environments.
Most cores are made from polypropylene resin that complies with FDA regulations for food contact. Polypropylene also holds excellent chemical and temperature resistance, so it works well in most any air, liquid or gas separation and filtration application.
As an alternative to metal for high-pressure applications, plastic mesh also offers significant advantages including:
Lower density, lighter components that yield gains via weight reduction while not sacrificing strength.
Easily fabricated and converted which creates an environment where customized components are achieved expediently and economically.
Excellent resistance to chemicals and corrosion, non-conductive and good response to temperature changes.
Versatility that can provide productivity gains by way of more modular piece construction, eliminating traditional assembly steps like screw fastening or welding.
Several products that are made with resin that complies with FDA regulations for food contact.
Readily and easily recyclable.
Option of adding color during extrusion eliminates the need for painting or powder coating as a secondary production step.
Contact us now to learn more.