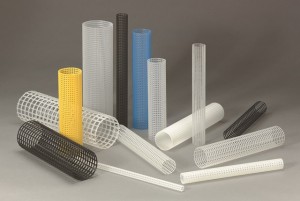 A hallmark of any successful manufacturing company is the constant pursuit of advantages and efficiencies in its processes and products. Buzzwords like "streamlining" or "continuous improvement" can sometimes be dismissed as business jargon, but meaningful changes that can favorably impact efficiency, productivity and, ultimately, costs are constantly at a premium. Those that can effectively impact these areas differentiate themselves from their competition and are more profitable.
One way many manufacturers are achieving this is through the replacement of components traditionally made of metal with those made of plastic. Mesh products are a great example of this dynamic in action. Easy to make and long lasting, extruded plastic mesh from Industrial Netting offers several significant advantages over metal including:
Lower density, lighter components that yield gains via weight reduction while not sacrificing strength.
Easily fabricated and converted which creates an environment where customized components are achieved expediently and economically.
Excellent resistance to chemicals and corrosion, non-conductive and good response to temperature changes.
Versatility that can provide productivity gains by way of more modular piece construction, eliminating traditional assembly steps like screw fastening or welding.
Several products that are made with resin that complies with FDA regulations for food contact.
Readily and easily recyclable.
Potential of adding color during extrusion eliminates the need for painting or powder coating as a secondary production step.
Companies in industries like Filtration have used plastic mesh from Industrial Netting to replace metal in components like rigid mesh cores for structural support or outer protective wraps for filter media protection.
Could your product benefit from replacing metal with plastic components? Contact us now to see how Industrial Netting can help you with your plastic mesh needs.