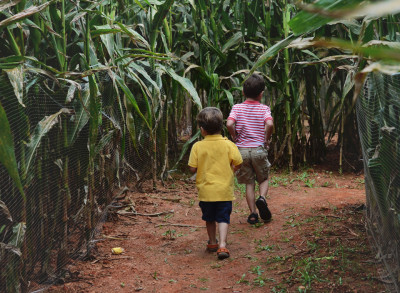 If you are in search of plastic netting for corn mazes and hauling various agriculture, Industrial Netting can provide that to your specific needs. Our agricultural plastic netting is made with a breathable open mesh structure allowing air flow while also preventing moisture and mildew build-up.

Planning on creating a corn maze this year? Plastic corn maze netting is used to delineate and define pathways within corn fields creating an unobtrusive, see-through barrier. Corn maze products are made from polypropylene resin coming in black and natural in color. Black Netting is used for extended service life and natural provides minimum visibility of the netting within your corn maze pathways! Make your Corn Maze as fun and effective as possible this year by using corn maze netting from Industrial Netting.
Plastic Netting can also be used as a disposable load divider for hauling agriculture. Load divider netting aids in separating and dividing loads of various trees and shrubs that get piled up on trucks and trailers while being hauled. This netting is light weight for easy handling and made from polypropylene resin in colors of natural, bright orange, and carbon black. Natural load divider netting is clear colored for minimum visibility, bright orange is used for maximum visibility, and black is UV stabilized for extended service life. Each color has a different advantage for your specific needs.
Check out our Plastic Corn Maze Netting and Load Divider products.