Have you ever taken a look around your warehouse facility?  Specifically the areas where your employees work or the traffic areas they walk in?  Are the products that you store secure in your racks?  Are your fork truck drivers able to safely place and remove product without causing it to go off the back side of the racks?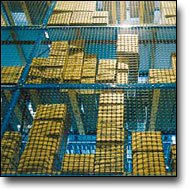 RackGuard Safety Netting from Industrial Netting can help you protect your people and your products by forming a durable, vertical wall to contain the boxes, pallets and other products stored in your racking systems.
The integral joint structure of this mesh creates a barrier that will not sag or stretch; it will not unravel if a strand is cut.  It is an economical way for you to improve safety, prevent falls between back-to-back racks and protect traffic areas and workstations.
RackGuard Safety Netting is stocked in 10' and 13' widths to accommodate most racking systems.  It can easily be trimmed on-site, or you can have us pre-cut it to meet your specific size requirements.  Once on site, it is easily attached to the tear drops in your uprights using UV stabilized nylon cable ties.