The American Convention of Meat Processors will be held in person on July 15th, 2021 in Oklahoma City, Oklahoma. This convention is geared toward U.S., Canadian and foreign operators of small firms in the meat, poultry and food Industry. These small businesses include packers, processors, wholesalers, retailers, caterers, deli operators, home food service dealers and catalog marketers.
Industrial Netting will be located at booth #511. Come visit us to see our wide array of rack liner and dehydration netting products. Industrial Netting offers polypropylene plastic netting as drying screens, trays, sheets, or rack liners for meat, jerky, fruits nuts, pet treats, cannabis and more!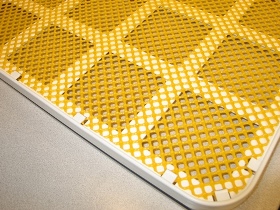 We also offer FDA approved injection molded trays at 21" wide x 42" long. You can select from any of our dehydration netting products to be inserted into the tray to fit your processing requirements.
Industrial Netting can't wait to finally see you in person once again. We will be located at booth #511 to answer any questions you may have or to provide you with product samples.
See you soon!